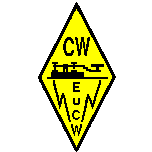 FORMER EuCW clubs
Clubs declared dormant after 2012
---

BTC (Belgium)
Belgian Telegraphy Club
BTC is QRT/inactive (tnx info ON7SS June 2013)
---

HCC (Spain)
Hispania CW Club
is QRT/inactive for many years according to EA1FAI who attempted a revival after the s.k. of founder EA3DOS.
---

OHTC (Finland)
OH Telegraphy Club
OHTC is QRT/inactive (tnx info OH6LBW June 2013)
---

RTC (Germany)
Radio Telegraphy Club e.V. - RTC
is inactive since 2016. The club was founded in the former GDR.
---

YLCWG (Germany)
YLCWG Young Ladies CW Group
is temporarily inactive since 2016. A later revival is not excluded.
---

CTCW (Portugal)
CT CW Club
QRT since 2018, overridden by GPCW. The former ECM of the club became ECM of the new club.
---

EACW (Spain)
EA-CW Club
Generic CW club
No news from this club for several years. Unlisted in 2018.
---

3A-CWG (Monaco)
Groupe Monégasque de Télégraphie
Generic CW club
Not active any more. Declared dormant by its founder 3A2LF in 2018.
---

LZCWC (Bulgaria)
LZ CW Club - Contest group
CW contest club
Lost contact, ECM deceased. Unlisted on 2019/01/31.
---
9A-CWG (Croatia)
9A CW Group
QRQ club, min. speed 150
Lost contact for over 2 years. Unlisted on 2019/06/10.
---

EA-QRP-C (Spain)
EA-QRP Club
QRP club
Lost contact for over 2 years. Unlisted on 2019/06/10.
---
FORMER associated clubs

---

CWAS (Brazil)
Clube de CW Aguias do Sul
No news from CWAS for several years.

---

QRP-ARCI (U.S.A.)
QRP Amateur Radio Club International
QRP club
No news from QRP-ARCI for years.

Back to EuCW Start Page